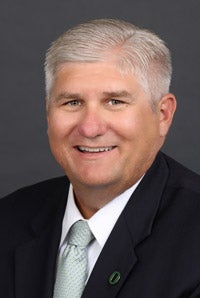 Dr. Roger J. Thompson is in his twelfth year at the University of Oregon where he serves as the Vice President for Student Services and Enrollment Management. He is responsible for services that contribute to enhancing the student experience, recruitment, retention, and graduation. His portfolio also includes providing continuing and professional education for the community.
Thompson leads an organization of more than 1,600 team members and an operating and scholarship budget in excess of $190 million. Further, enrollment at the University of Oregon has reached record levels for total enrollment; academic quality; diversity, including ethnicity, socio-economic, and international representation; and freshmen-to-sophomore retention rates during Thompson's tenure. The 2021 entering freshman class established a new UO record as the largest in the history of the institution by breaking the previous record set in 2019, which surpassed the prior record by over 7%.  Additionally, the new Kalapuya Illihi residence hall opened in Fall 2017, a significant expansion and renovation of the University Health Center is complete, and the "UO Transformational Housing Plan" supported by the University of Oregon Board of Trustees in May 2018 has completed phase one.
Student Services and Enrollment Management positively impacts the student lifecycle daily through the departments that comprise the division: Continuing and Professional Education, Office of Admissions, Office of the Registrar, Office of Student Financial Aid and Scholarships, Student Orientation Programs, Student Services and Enrollment Management Development, Student Services and Enrollment Management Research, Strategic Communications and Marketing, University Health Services, University Housing and University Testing Center. The aforementioned departments provide services to prospective and currently enrolled students, faculty, staff, alumni, and friends of the UO. Since the beginning of the current UO fundraising campaign, more than $118 million has been gifted to Student Services and Enrollment Management for the support of students through scholarships.
Prior to arriving at the University of Oregon, Thompson served as the vice provost for enrollment management and special advisor to the president at Indiana University in Bloomington. During his four-year tenure at IU, the university not only reached record enrollment—growing from approximately 38,000 students to more than 42,000 students—but the quality of the freshman class grew to the highest level in its history, including a 100-point rise in average SAT scores, from 1103 to 1203. Additionally, new financial aid programs were developed and implemented to help low and middle-income families with the cost of attending college, and the university undertook a new approach to merit-based scholarships. The signature institutional aid program, 21st-Century Scholars, was recognized by the College Board as a model for effectiveness in addressing college affordability.
Prior to his time at IU, Thompson served at the University of Alabama for more than eight years in a number of roles in enrollment management, eventually becoming chief enrollment management officer as associate vice president for enrollment management. In every year he was responsible for enrollment, the institution set records for total enrollment, entering freshman class size, academic quality, and diversity, including a growth in African American enrollment of nearly 50 percent. Thompson was also recognized for his contribution to the university by receiving the Robert Vance Award, named in recognition of the leadership provided by federal judge Vance, who was instrumental in enforcing desegregation in the South in the 1960s. While in his position as a faculty member of the UA Graduate School, Thompson served on several doctoral dissertation committees in the higher education program. He was also awarded lifetime membership to the UA National Alumni Association. Thompson also served in a number of capacities at the University of Southern California for nearly eight years, and prior to his tenure at USC, worked in student affairs at several other institutions.
A nationally distinguished expert in strategic enrollment management and student services, Thompson's work has been recognized by several organizations including PBS News Hour, New York Times, Washington Post, Los Angeles Times, The Atlantic, the College Board, ACT, and the American Marketing Association. Thompson has been a frequent presenter at national and regional conferences throughout the country and has published in the areas of leadership development, college choice, student persistence, student success, and affordability issues in higher education. He also serves on the editorial board for the higher education journal, College and University and on the advisory board for the national publication Enrollment Management Report.
He founded an AAU group of chief enrollment management officers, which he chaired for eight years. Dr. Thompson also serves on the Marist Catholic High School Board of Directors and assumed the position of Vice Chairman of the Board in September.  Lastly, since 2015, Thompson serves on the statewide Board of Directors for Special Olympics Oregon.
A native Oregonian, Roger earned a bachelor of arts in broadcasting from California State University, Long Beach, a master of science from the University of Central Missouri, and a doctorate in higher education policy and administration from the University of Southern California.