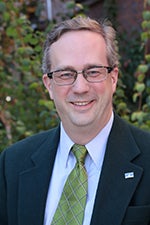 Jim Rawlins is the assistant vice president for student services and enrollment management and director of the Office of Admissions. He leads recruitment and outreach efforts to freshman and transfer students, including both US and international students. 
Jim began his career in 1993 as a program coordinator for teacher education programs at Western Washington University before shifting his focus to the student recruitment area of admissions. He progressed from senior admissions counselor to associate director for outreach and recruitment at the University of Washington beginning in 1997. He joined Colorado State University in 2008, where he served as executive director of admissions, then as associate vice president for enrollment and access.
Over his career, Jim has served as a delegate to and as president of the Pacific Northwest Association for College Admission Counseling. He has more recently served as president of the National Association for College Admission Counseling (NACAC) and was on its board of directors from 2011 to 2014. He currently chairs the NACAC Governance and Nominating Committee. Jim is a frequent presenter at a variety of NACAC, ACT, and College Board conferences on subjects as varied as multiracial identity, higher education demographic trends, CRM management, and admissions policy.
Jim holds a bachelor's degree in music performance from Florida State University and a master's in music performance from Southern Methodist University. He is a candidate for the PhD in higher education leadership and policy studies from the University of Washington.